Fildena 100mg Online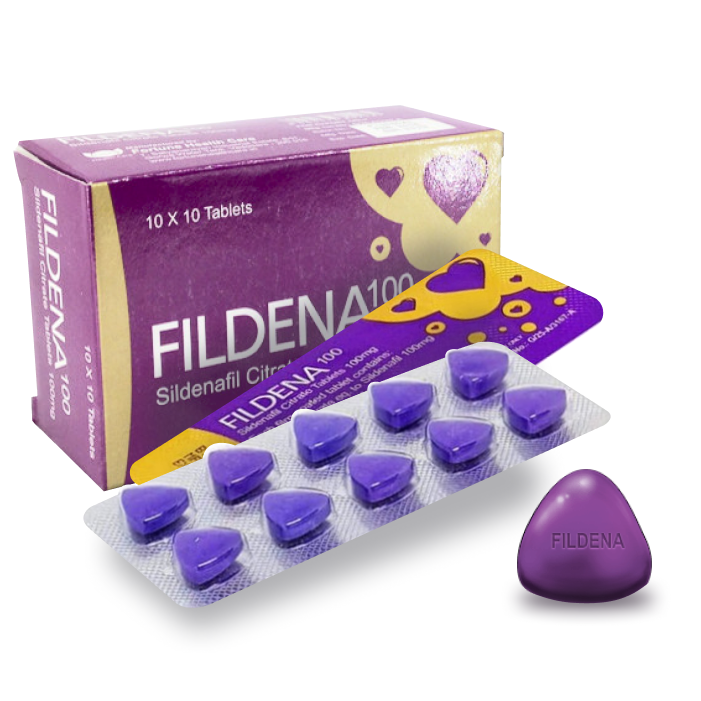 Fidena 100mg is the ED medication that you have been looking for. It is a sildenafil-based drug just like Pfizer's Viagra but, unlike Viagra, it comes to you at an affordable price. Its efficacy and safety are also beyond question, so why not give it a try and order it from our pharmacy right now?
What Is Fildena?
The active ingredient in Fildena is sildenafil, a compound that effectively relaxes the vessels supplying the penile tissue leading to increased blood flow to this area. This is the same compound that is contained in Viagra. However, Fildena is much cheaper than Pfizer's blue pills because its manufacturer does not have to make up for the initial costs of research and development and bringing a brand-new medication into the market.
Fildena is produced by Fortune Healthcare, a reputable pharmaceutical company which is based in India. The company is known for its broad range of pharmaceuticals sold worldwide and Fildena is one of its flagship products.
How to Take Fildena
The drug is available in different strengths including 50 mg, 100mg, 150mg and 200mg. The required dosage is primarily determined by the severity of the patient's erectile dysfunction. You are recommended to start off with a lower dose (50mg to 100mg) and go up only when necessary. You can consult your doctor if you wish to increase the dosage.
Fildena is meant for oral administration. The onset of action is between 30 minutes to one hour. Therefore, it is good to take the medication well before the anticipated sexual activity. It is worth mentioning that the drug works only when there is sexual stimulation. Fildena on its own does not cause erections.
The trademark shape of Fildena tablets is triangular. The different strengths have different colors.
There are alternative formulations for those who don't fancy the regular pills. The chewable tablets and capsules are just as efficient as the pills.
There is also a version called Super Fildena and it is a product that is a remedy for both erectile dysfunction and premature ejaculation. The combo of sildenafil and dapoxetine really works wonders when it comes to restoring a man's sexual performance and extending the duration of intercourse.
Fildena should not be used alongside nitrates and nitrites because their combination with sildenafil is known to cause extremely low blood pressure.
People with underlying cardiovascular conditions are prohibited from using sildenafil-based products. If you suffer from liver or kidney disease, you should not use the medication either.
Other conditions in which Fildena is contraindicated include penile deformities like Peyronie's disease and a recent history of stroke or myocardial infarction. If you are not sure if you can use Fildena or not, consult your doctor.
Do not take multiple doses of sildenafil in a 24-hour period.
Fildena Side Effects
Like many similar drugs, Fildena has its side effects, all of which are identical to those of the brand name Viagra. Most are mild whereas others can be more serious. If you experience any of the serious adverse effects, you will need to see a healthcare provider as soon as possible.
Some of the mild side effects of sildenafil that should not worry you much include headache, general body weakness, indigestion, facial flushing, nasal congestion and nausea.
The more alarming side effects of Fildena include convulsions, blurred vision, impaired hearing, priapism, labored breathing and loss of consciousness. Thankfully, these adverse effects do not occur commonly with only as few as 0.1% of the patients experiencing them. However, you need to be on the lookout just to stay on the safe side.
Allergic reactions can also occur in some people. They will normally present with hives, generalized body swelling, rashes, and difficulty in breathing.